One of the best parts of my day, any day, is when our Members ask about customizing our materials for their program. Not only is it a validation of our liberal-use license model, but it's a key indicator that Compliance professionals are always looking for better ways to connect with and engage their audience by tailoring Communications.
It used to be that "customization" meant "complex" and "expensive." No longer. The ubiquity of tools that are not only easy to use, but often free, can turn even the luddites among us into impressive purveyors of multimedia magic. (Of course, maybe you would prefer not to do any of this yourself, but would rather have us do it for you. For that there's CW CustomTM)
So I thought I'd share, step-by-step, how I created this custom Compliance Brief video on Conflicts of Interest for the fictional ACME Widgets Inc. in about 15 minutes without any special skills or exotic software.
First, take a look at my customizations--they can be found from 0:00-0:10 and again starting at 3:58 in the video below:
Step 1: Content decisions
Time needed: Entirely up to you.
This part isn't technical at all. I simply needed to decide what content would enhance the video experience for my audience. To maintain the brevity and integrity of the video, I decided to add just two items:
1) Corporate branding
2) Hotline information to make the video more actionable
Step 2: Create new content for my video
Time Needed: Less than 5 minutes
Like most of us, I don't have high end designers at my beck and call. So I did the simplest thing imaginable: I fired up Microsoft PowerPoint. The advantages are clear: it's easy to use, I know I have access to pre-approved, branded templates, and there's always plenty of existing Compliance content available to me.
I assembled a simple deck in under 5 minutes: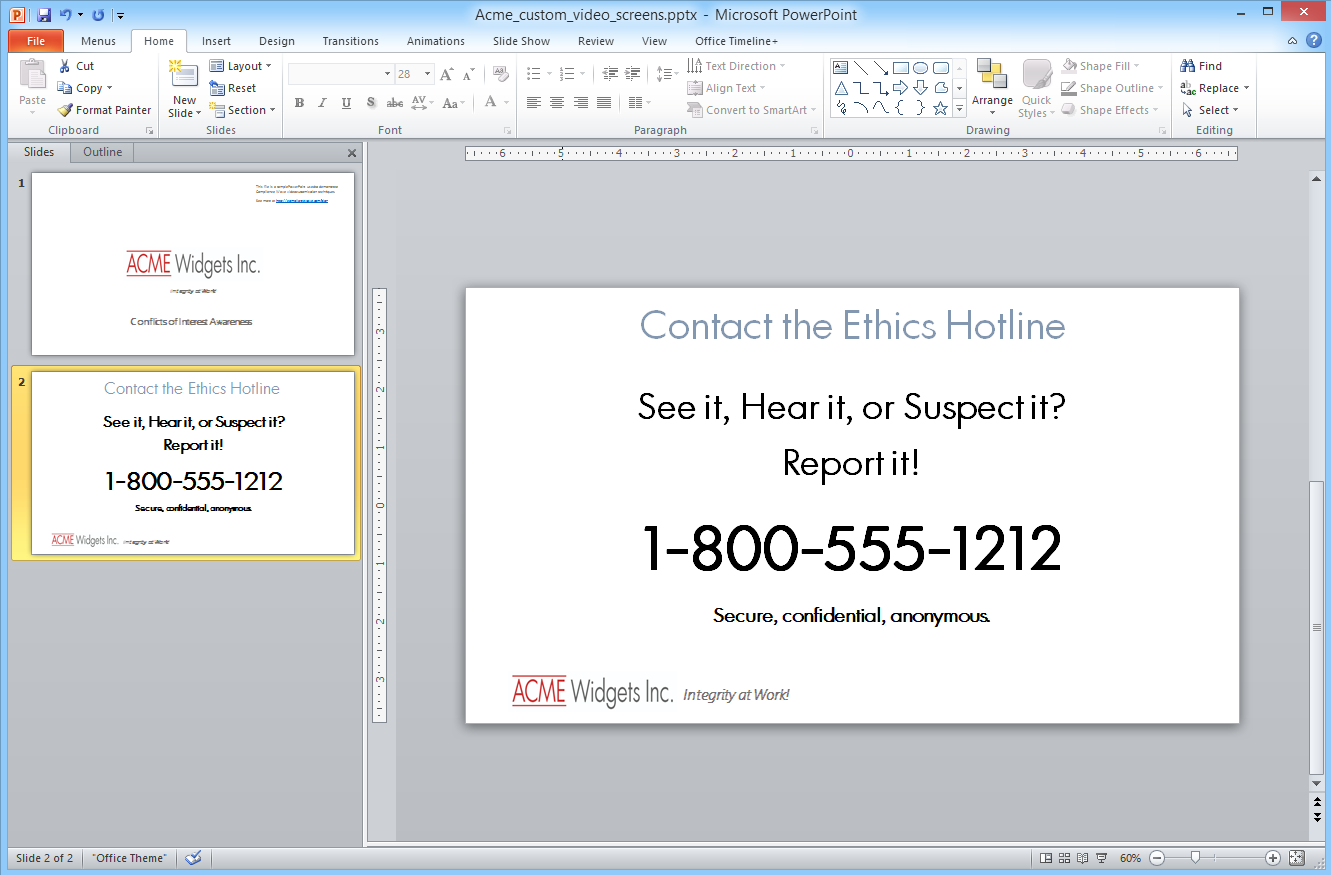 (You can download my sample presentation here.)
Step 3: Save the PowerPoint as a graphic
Time needed: 30 seconds
PowerPoint has a great feature that lets me instantly export my slides as images. Each slide is converted to a graphic and they're even put into their own folder for me. Very handy!
Below are the PowerPoint images for my custom video. (By the way...we're already about halfway done!)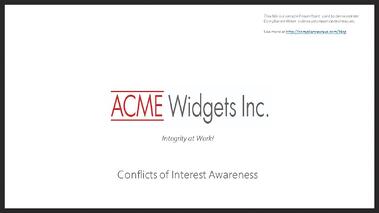 Step 4: Add my custom screens to the video
Time needed: 5 minutes
Now that I have my two new screens, I can add them to my video.
While there are many video editing options out there, I favor Microsoft's Windows Movie Maker. If you're a Mac fan, Apple provides iMovie. Not only are they both extremely easy to use, they're also free.
I already have a Conflicts of Interest video from the Compliance Wave Library downloaded to my computer, so in Movie Maker, I simply browse for my video file and it's automatically loaded for editing.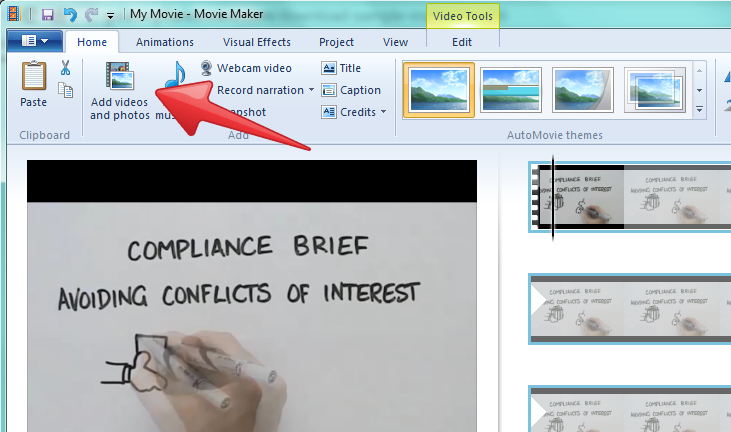 Now for the fun part. Editing a video in Movie Maker is quite easy and even the most casual user can add screen transitions, visual effects, output to mobile, and more. Here, I click on "Add videos and photos" to insert the PowerPoint images I made a moment ago...

As you can see, they show up immediately and I can simply drag each image to where I want it to appear in the video: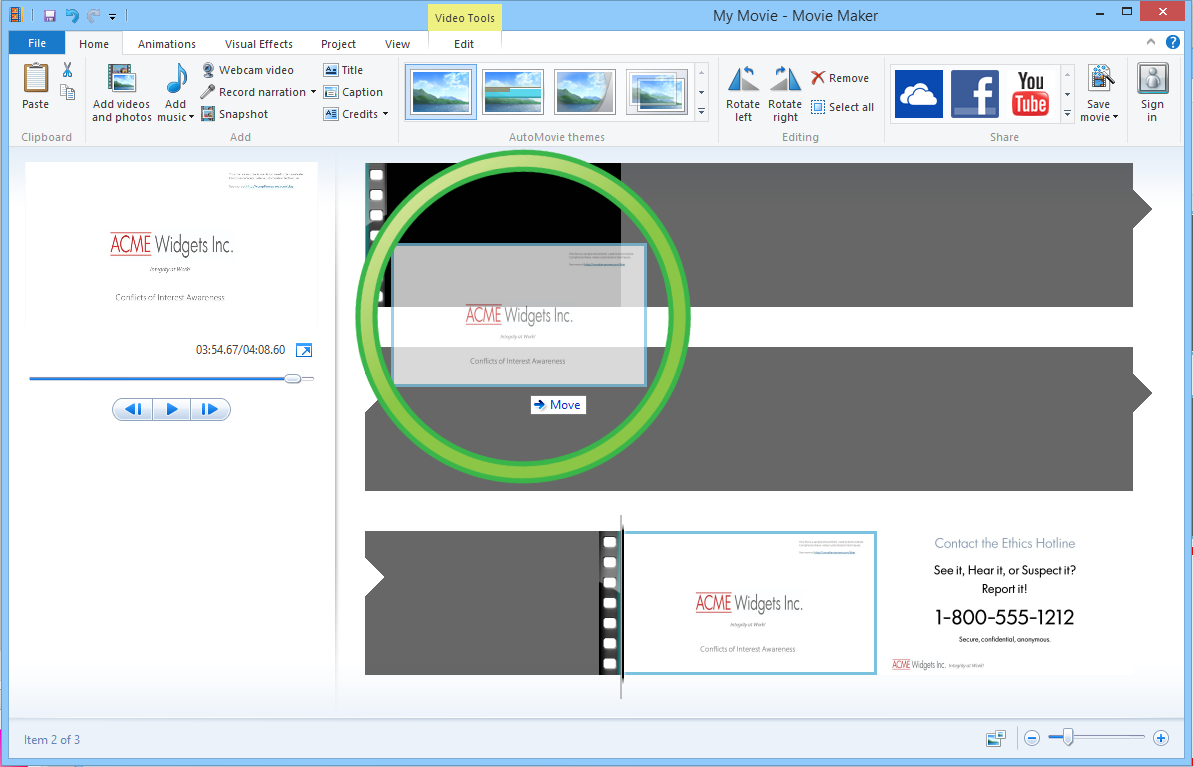 Voila! I now have a Compliance Brief video with my own custom, branded splash screen and Hotline screen.
Step 5: Save my video
Time needed: 5 minutes
All I need to do now is save my new video by deciding on the format and quality I want: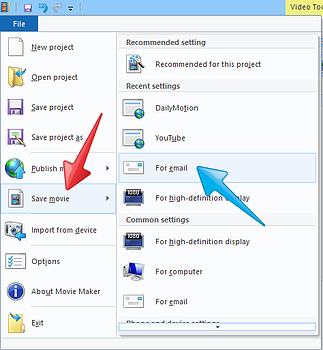 TIP: Remember, the higher the quality, the longer a computer will take to process the new video file. On a mid-tier laptop, rendering a new video for High-Definition output takes me about 6 minutes (your mileage may vary).
Step 6: Put my feet up and bask in my own brilliance
At this point, my new custom video is ready. I can upload it to the intranet, hand it off to learning and development for the LMS, embed it in a Tone At The Middle presentation, post it on my corporate YouTube channel, etc.
Again, for editing multiple videos or making changes beyond my time or ability (like custom animations or a professionally recorded narration of my custom script), we've launched CW CustomTM. You can check it out here.