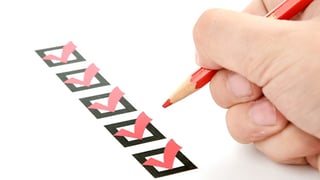 Choosing the right content and assessing your available resources plays a large role in creating an effective compliance communication strategy. Using the previous parts of this series as reference, you'll be able to look back at your analysis and choose the most appropriate content. You'll also have a better understanding of current internal messaging and training, which will help you pick the best content for alignment. When you start to choose content, it can be helpful to consider the following points:
Identify a desired timeframe. Based on your messaging and training alignment discoveries, you'll want to create a basic schedule that outlines how much communication will occur over a set period of time. Remember to consider the available distribution channels, which can help keep the momentum of the steady communication pulse throughout the year. If you have to create your own content, be sure to factor that time in. (Unless you have a compliance content provider, in which case you'll end up saving time!)


Keep roles in mind. As you planned your goals and analyzed your audience, you learned how different members of your organization can play a role in a communication plan. Keep those individual roles in mind as you assess what resources are available. While you may be responsible for selecting the content for your messages, you may not be responsible for sending the messages themselves. Setting a schedule in advance will help keep everyone on track and aware of your strategy.


Follow the approval process. If your organization has a process for submitting content for approval before it is released, be aware of how much lead time you will need in order to stick to your schedule. There may be a review board, an internal communications group, or a managing director who will act as the gatekeeper. If you're unsure of the content approval process, check with your internal communications team. If there is no content approval process, consider collaborating with other communicators in your organization to create one.
Communication Tip: Be flexible. Having a schedule for your messaging is important, but being too rigid can stop your strategy in its tracks.