Watch this Exclusive On-Demand Workshop "Tools for Effective Third-Party Compliance Training Programs."

This 30-minute workshop details how microlearning can be applied to your Third Party Compliance Training Program. Additionally, we welcomed Daniel Zmak to explain how Steele Compliance Wave's parent company, Steele Compliance's Securimate software provides third-parties with information on how to engage in safe and ethical business behavior, while avoiding potential traps or pitfalls.


What You Can Expect:
Develop new tactics for your Third Party Compliance Training Program using the science of Microlearning

See an overview of Steele Compliance Wave's Third Party Training Library and learn how its content can improve your program's effectiveness

Hear from Steele Compliance Solution's Daniel Zmak about how using Securimate

can greatly improve Third Party Compliance training programs and how it ties into risk based due diligence.

Participate in a live Q&A session with dozens of Compliance Professionals like yourself and hear tips on how your program could be more effective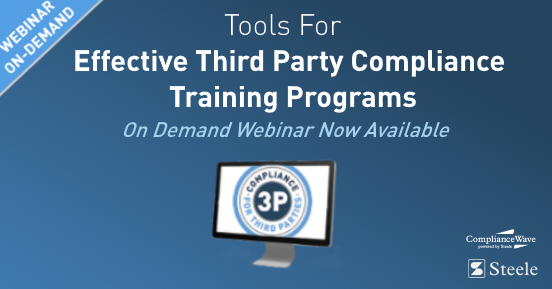 Watch The Webinar Now!