Registration is open, but seats are limited.
Join us for this 30-minute Exclusive Live Webinar Demo of The Largest Compliance Communications Libraries in the World!

This quick 30-minute webinar offers an exclusive look at tools, modules and videos that Fortune 500 companies such as Microsoft, Adobe, Merck & Co, and General Motors use in their compliance programs and discuss how Compliance Wave makes using them seamless.

What you Can Expect:
Learn how to create and improve your compliance, ethics, communication and training program using over 4,000 engaging microlearning tools, modules and videos in The Steele Compliance Wave Libraries.
See training content translated by native speakers first hand and learn how Steele Compliance Wave makes it easy to communicate training anywhere in the world.
See how content from the Libraries is ready to use with your LMS, intranet, email, mobile training, print media and more.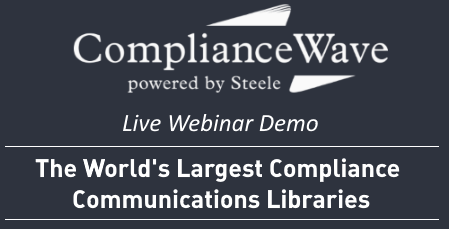 Date: Tuesday, 12th November 2019


Time: 10:00 am EST | 3:00 pm GMT




Reserve Your Spot Today!