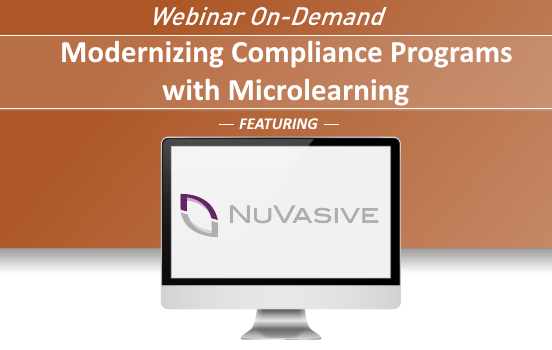 Speaker: Ejehan Turker
Company: NuVasive
Watch this on-demand webinar featuring NuVasive's Ejehan Turker discussing the steps she and her compliance team took to modernize their training with frequent, short burst, microlearning.
Hear the strategy they took, get a look at some of the innovative tools that have helped them with their success, and get access to preview the tools yourself.

What You Can Expect:


Hear how NuVasive's compliance team implemented microlearning and the benefits it brought.





Learn how microlearning opened new avenues to deliver training through multiple channels.




Hear how NuVasive leveraged a role-specific content strategy that drove communication effectiveness.


Get a look at interactive microlearning modules NuVasive is using to train its employees.