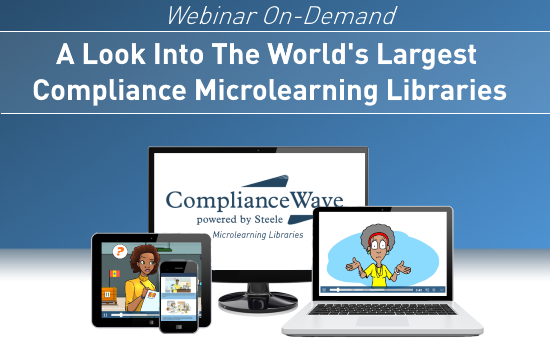 Watch this brief 30-minute Exclusive Webinar Demo of The Largest Compliance Microlearning Libraries in the World!

This webinar will run through a number of key tools, modules and videos that companies such as Microsoft, Adobe, Merck & Co, and General Motors use in their compliance programs and discuss how Compliance Wave makes using them seamless.

What you Can Expect:
Learn how to create and improve your compliance and ethics communication and training program using over 4,000 engaging tools, modules and videos in The Compliance Wave Libraries.



See how content from the Libraries is ready to use with your LMS, intranet, email, mobile training, print media and more.




Learn how to reach employees anywhere in the world with our comprehensive translation and localization capabilities.

Webinar On Demand:
A Look Into The World's Largest Compliance Microlearning Libraries


Air Date:

Thursday, September 12th, 2019